NSW's leading sexuality and gender diverse health organisation ACON is proud to continue walking the national reconciliation journey with the release of the second iteration of its Innovate Reconciliation Action Plan (RAP).
ACON's Innovate RAP 2023-25 adds to the organisation's ongoing commitment to ensuring First Nations people of diverse genders and sexualities can live their healthiest lives, as well as celebrate the longest living culture on Earth, acknowledge history, build closer relationships, and to improve health outcomes for Aboriginal and Torres Strait Islander peoples.
The development of the second Innovate RAP was overseen by ACON's Reconciliation Working Group, the organisation's internal Aboriginal and Torres Strait Islander advisory committee made up of staff and community representatives.
Kage Gold, Co-Chair of ACON's RAP Working Group, said: "Thank you to the First Nations community members and ACON staff that have so willingly shared their cultural knowledge and contributed to ACON's reconciliation journey. I acknowledge the emotional and cultural load this work has put on you. Thank you."
"Our queerness does not absolve our racism, and we will always have work to do. We have an ambitious action plan and a way forward; this is just the beginning. Let's get it done."
Jane Yettica, Co-Chair of ACON's RAP Working Group said: "In Aboriginal and Torres Strait Islander cultures, the health of the individual is intimately linked to the health of our communities. Sadly, Indigenous peoples continue to face poor health outcomes and this has devastating impacts for all of the community."
"This RAP provides a roadmap for ACON to deepen their understanding of our unique cultures and lived experiences so that we can move towards a healthier and more inclusive future for all LGBTQ+SB communities. I am excited to see the progress we can make."
ACON launched its first RAP in 2018, committing ACON to create a strategic, collaborative, and whole-of-organisation approach to its work with Aboriginal and Torres Strait Islander peoples. Across each of ACON's RAPs, the organisation has worked with Reconciliation Australia to develop a formal framework to ensure its work supports the national reconciliation movement. With the implementation of its second Innovate RAP, ACON will continue to foster a more strategic, collaborative and whole of organisation approach to our work with Aboriginal and Torres Strait Islander peoples.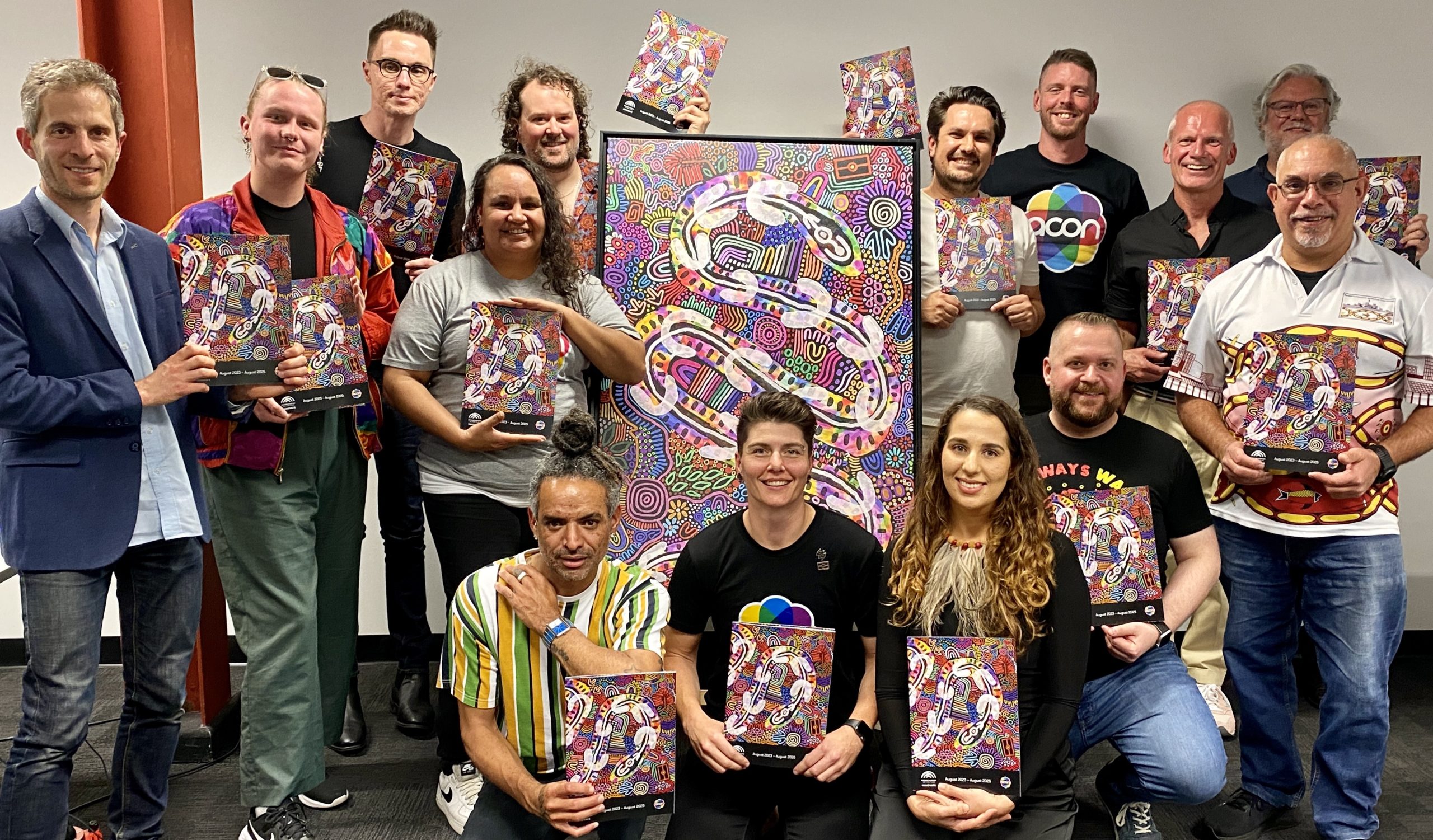 ACON CEO Nic Parkhill said: "The unacceptable gap that persists across many areas of health for Australia's Indigenous population, compared with the Australian-born non-Indigenous population, is why ACON continues to commit to developing and implementing RAPs since our first in 2018.
"Through the entirety of our work, we must dedicate ourselves to removing barriers that contribute to disparities in First Nations health, inclusion, wellbeing, and employment. We must work to end these disparities, and we need to take every opportunity we can to build relationships and partner with First Nations health services and organisations, fight injustice, racism, and discrimination and to learn new ways of doing things."
You can access ACON's Innovate RAP 2023-25 here.
ACON's Innovate RAP 2023-25 artwork was created by Wiradjuri and Birpai man Wayde Clarke, and is titled 'Rainbow Pride, Rainbow Strong'.