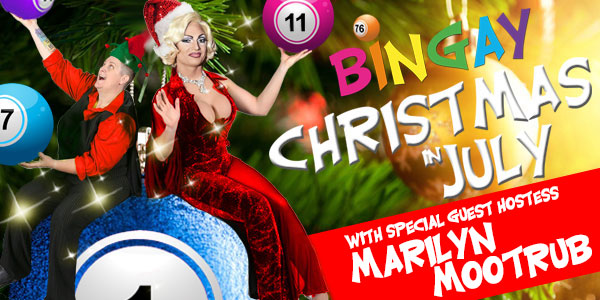 If you love the festive season and don't want to wait until December, then join us for a truly spectacular BINGAY – Christmas in July celebration! There'll be plenty of Yuletide cheer with lots of festive outfits, decorations and loads of saucy surprises. So get ready to deck the balls and jingle all the gays!!!!
Our regular hostess Charisma is having a Christmas holiday so we're delighted to be welcoming the hilarious Marilyn Mootrub to fill the hole, and BINGAY's legendary barrel babe Naomi Palmer will continue to spin the balls and sing up a storm.
For those BINGAY virgins – BINGAY is gay bingo which means there's classic disco tunes, weird rules and penalties, outrageous antics, hilarious banter, deliciously lewd bingo calls, and prizes that range from the silly and camp to great theatre tickets and restaurant vouchers.
And remember, players at the June and July editions of BINGAY will be in the draw to win a fully hosted 4-day holiday package with stunning on-mountain accommodation at the Hotham Alpine Resort courtesy of the generous folk at Frost Fruits Ski Trip. Lucky winners can look forward to a fabulous hosted gay and lesbian Alpine experience with plenty of social activities, the best alpine dining and fun-filled evenings! Now that would be a fabulous early Christmas present!
WHAT: BINGAY – Christmas in July
WHEN: Thursday 16 July, 7pm for a 7:30pm start
WHERE: Upstairs at The Shift, 85 Oxford St, Darlinghurst
COST: $20 for all games
BOOKINGS: www.acon.org.au/bingay