Lesbian, Bisexual and Queer (LBQ) women and smoking
You've seen the ads, read the warning labels; most smokers know that smoking is bad for their health. Despite this, LBQ women smoke at more than twice the rate of heterosexual women even though 70% of all LBQ women who smoke say they want to reduce or quit.
If you're a smoker, you also know that tobacco smoking can be a complex, love/hate relationship enmeshed with identity, mental health and social connections. Quitting isn't easy for everyone, but it is possible to break-free from tobacco.
Watch stories from women in the community who stopped smoking, download PDF's with handy hints and quick tips to quit and tell us how else you would like ACON to help you on your journey to quit smoking. So if you want to flip the script on LBQ women's smoking and break-up with tobacco, ACON is here to help you get connected, get creative and get inspired.
Download your 10 Quick Quit Tips and 10 Things to Do With Your Fingers guide
More downloadable resources are available here
You can be smoke free and still fierce
We spoke to seven fierce women in our community about their relationship – and break-up – with cigarettes. Their unique stories will make you smile, inspire you and remind you that no matter your relationship with smoking, quitting is possible!
Check out their stories below.
Music: Stay Monkey – Julie Ruin | Cinematography and Editing: Amanda Austin
Currently quitting? Download a quote below from one of our fierce women, so if you find yourself reaching for a cigarette, you can read some words of inspiration to help you stay #SmokeFreeStillFierce.
If you want to find out more about quitting strategies, smoking cessation services and support tools check out www.icanquit.com.au.
This project, specific to helping LBQ Women reduce and stop smoking, is the first of its kind in Australia. ACON would like to acknowledge the support of the Cancer Institute NSW, the fierce women that shared their stories and everyone who participated in our surveys and focus groups.
Thank you to Amanda Austin for her video work thank you to Kathleen Hanna (Julie Ruin) and Peaches for their generosity.
Follow us on via the hashtag #SmokeFreeStillFierce, like us on Facebook and follow us on Twitter @ACONhealth to hear more about this campaign and other LBQ women's support services.
---
Prior to the above campaign an anonymous online survey of LBQ women was conducted to:
 Identify smoking and smoking cessation behaviours, patterns and contexts among LBQ women and,
 Compare the characteristics of current smokers and ex-smokers.
The below information presents findings and complete report from this survey.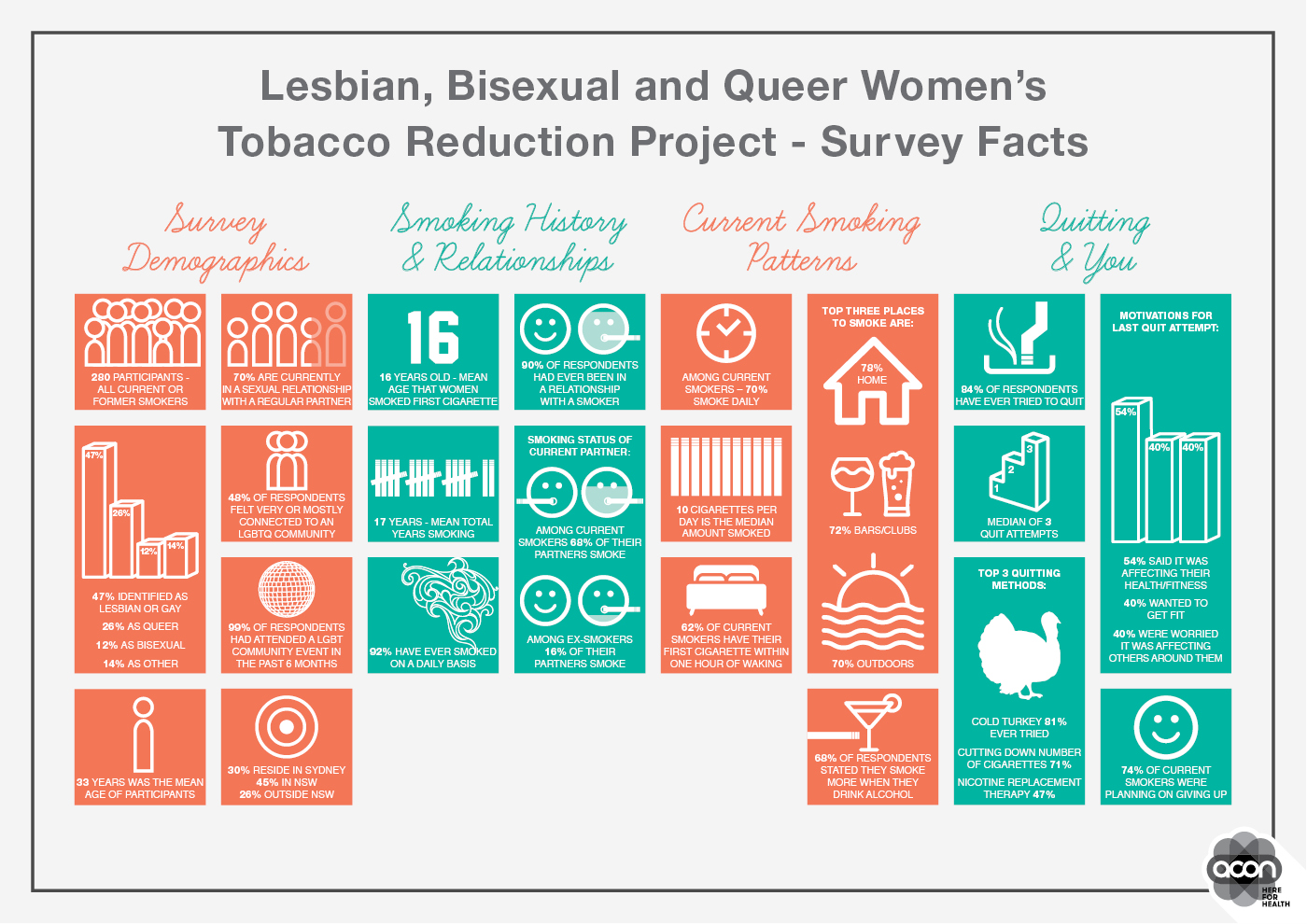 Read the full Lesbian, Bisexual and Queer (LBQ) Women's Tobacco Reduction Project Community Report Online Survey Findings here. (Right click on the link and "save link as" to view the digital version correctly)
Download a printable version of the Lesbian, Bisexual and Queer (LBQ) Women's Tobacco Reduction Project Community Report Online Survey Findings here.